Portable tool that dispenses, applies and crimps foil in one smooth process. Working with Stained Glass couldn't get any easier!
Recent Work
All Table Foiler Products are sold exclusively through authorized dealers.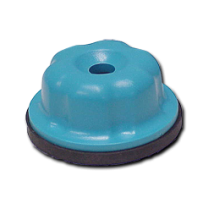 More About Our Company
HISTORY OF KWC, Inc.
KWC started because there had to be a better way to foiling (applying copper foil to the edge of stained glass).
Ken had a difficult time applying the foil straight on to the edge of the stained glass.  In the year 2000,  Ken and Wen Carlson started to develop the Table Foiler.  Spring of 2001 they built 11 foilers.  They introduced the Table Foiler to Tucson, AZ stained glass dealers and they sold immediately. All manufacturing machinery was built by Wen who had taught industrial technology for 33 years.
The first thousand Table Foilers were manufactured  in Lac La Belle,  MI.  They were also made in Tucson, AZ,  Baraboo, WI and at present in Maquoketa, IA. The patent was received 2002,  and the trademark 2003.  Bryon  Carlson purchased Ken's share of KWC May 2008.
Read More